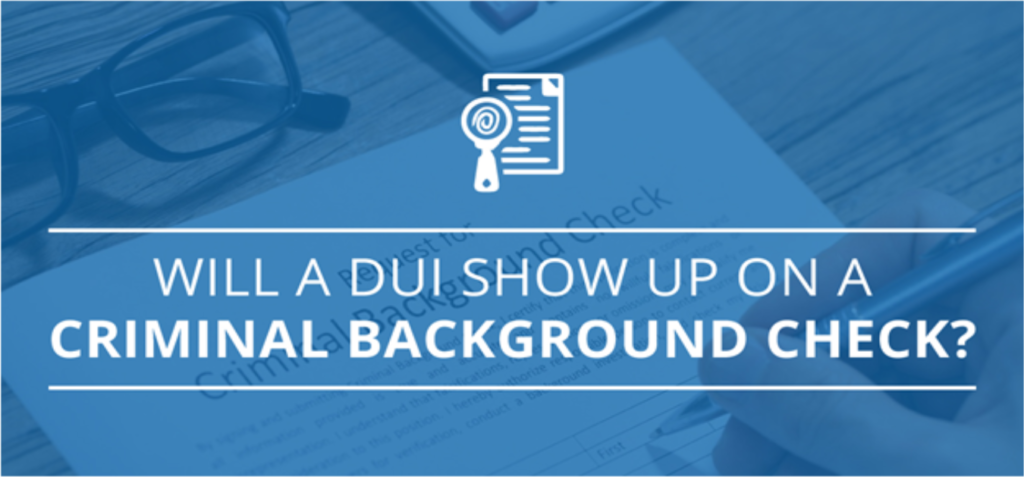 When looking for a job these days, it's common to either be asked about your background or be informed that your potential employer may run a background check on you if you're to be considered for the job.
There are various state and federal regulations in place that are supposed to prevent any sort of discrimination against those who may have a bad mark or two in their file. The reality, though, is that if you've faced any criminal charges or convictions in the past, you're going to have a harder time than someone who hasn't.
When it comes to background checks, one question we often hear is, "Will a DUI show up on a criminal background check?" The answer — which most people are unhappy to hear — is yes. A DUI is a crime and it will show up on a criminal background check.
DUI And Criminal Background Checks
There are regulations at both state and federal levels that lay out exactly what can and can't be included in background reports. All companies that gather and report this type of information back to employers must follow these rules.
Federal Restrictions On Background Checks
The Fair Credit Reporting Act (FCRA) applies to background checks conducted by third-party companies (but not those conducted in-house by potential employers). The main requirements set by the FCRA for employers are:
Employers must get written consent from an applicant before running a background check.
The applicant must be informed of the results of the background check that could negatively affect their chances of being hired.
The applicant must be given a copy of the report.
The applicant must be informed if the decision not to consider him or her for the job was based on the results of the background check.
The FCRA also states that reports can not include information on any arrests that occurred more than 7 years prior to the date of running the report. Criminal convictions, however, can be reported indefinitely—including DUI.
It's also important to note that FCRA requirements only apply to jobs with an annual salary of $75,000 or less.
Kentucky Law Regarding DUI And Background Checks
In the state of Kentucky, federal law, of course, remains in effect, but Kentucky law restricts things slightly more and may give you some other options to have some information removed from your records and background reports.
Under Kentucky Revised Statutes (KRS) section 367.310, reporting agencies are not allowed to include any information regarding charges that did not result in a conviction. That statute reads, "No consumer reporting agency shall maintain any information in its files relating to any
charge in a criminal case, in any court of this Commonwealth, unless the charge has
resulted in a conviction. "
KRS sections 431.073 and 431.076 also allow for the expungement (removal) of some arrests and even convictions from the records that would show up on background checks. Some convictions for Class D felonies and lesser crimes can be removed as well as records of arrests that did not result in a conviction. Unfortunately, though, a conviction for DUI can not be expunged.
That may not seem like much help, but if an unconvicted DUI charge or arrest shows up on a background report for some reason, you could make sure that it doesn't happen again by applying to have it expunged.
A Kentucky DUI Lawyer Can Help Guide You
If you have been arrested for or convicted of DUI and are worried about what it might do to future background checks, you should speak with a qualified DUI attorney. A lawyer experienced with DUI cases will be able to tell you what you can expect to show up on background checks and what you can do to make the best of your situation.
Contact us online now or give us a call at (859) 259-0727 to schedule a consultation. We'll be happy to go over the particulars of your case and discuss what we can do to help.